For all interior commercial and public centre's
Glide Escalators are built complying at the State of the Art Escalator factory designed and built for safety, reliability, comfort and quiet operation. Modular design of every component meets the demands of every customer.
Landings
As per EN 115, the entrances to both landings have been given enough space to facilitate traffic flow.
Design
Modular Design of each component, hence JES escalators can be adapted to meet every customer need.
Balustrade
Design with vertical safety glass, 10mm tempered glass and hairline ST that adds beauty and safety together.
Operation
Red Emergency stop button, up/down key switches. Etched ST/ST with anti-slip pattern landing plates.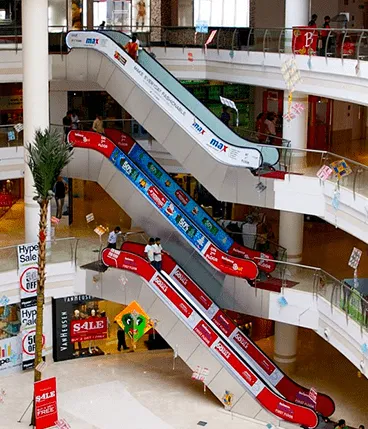 | | |
| --- | --- |
| Installation | Indoor |
| Inclination | 30°/35° (max. 6m for 35°) |
| Step Width | 600/800/1000 mm |
| Horizontal step run | 800/1200 mm |
| Speed | 0.5 m/s |
| Capacity | 3600/4800/6000 pers/hr for step width 600/800/1000 mm respectively |
| Power Supply | AC 3-phase, 50/60 Hz |
| Lighting Supply | AC Single |
| | |
| --- | --- |
| Balustrade Design | Vertical safety glass (10mm safety tempered glass) |
| Balustrade Profile | Hairlne ST |
| Handril | Black & Red (optional) |
| Deckings | Hairline ST |
| Skirting Panel | Hairline ST |
| Step | Black - Stainless Steel. Die-cast aluminium, painted silver grey optional |
| Landing Plate | Etched ST/ST with anti-slip pattern |
| Operation Panel | Red emergency stop button, up/down key switches |
Comercial
At Johnson, we manufacture High Speed,
Energy Efficient, Green, BMS/RMS Compatible, Aesthetically rich and durable lifts and escalators.
To get to know more about Glide Escalators, download brochure.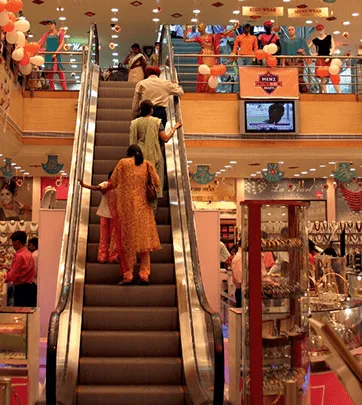 Escalators for Commercial places
Complies with European code EN 115 and international codes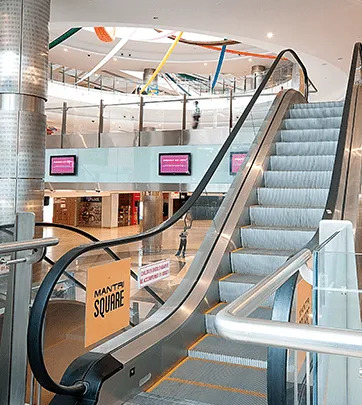 Escalators for Malls
Unique balustrade design with safety features conform customer specs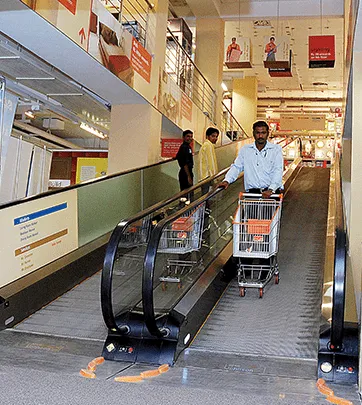 Escalators for Public places
Specially designed to meet high-traffic utilities in indoor
Get to know special advantages of Glide Escalators
Additional Features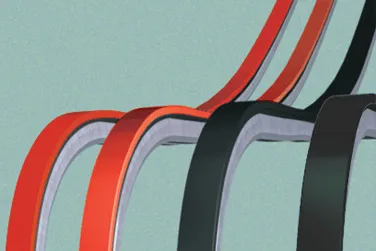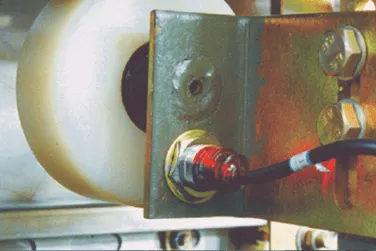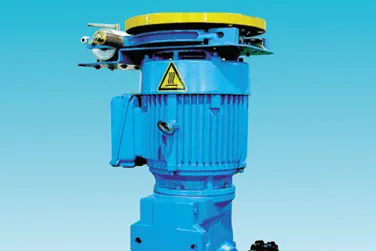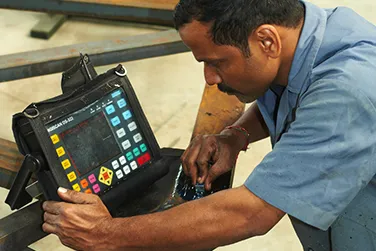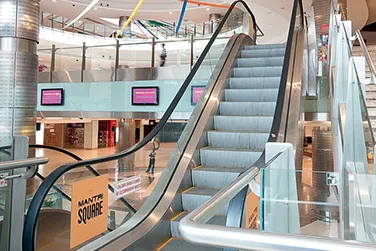 Safety is our utmost priority
Safety Features
Cover and Keep safe
Cover the Escalator area & protect from water entry.
Press STOP when needed
Use the "STOP" button if incase of any emergency.
Ensure you protect the gaps
Protect the entrance side gaps on both ends to ensure safety of the passengers.
Ensure proper usage
Prevent misuse or vandalism of the escalator.
Drive-Chain Contact
This contact monitors the Drive-Chain for breakage. When actuated, the contact will stop the escalator
Skirting Contacts
These contacts have been installed at both the top and bottom of the escalator at the transition curve. If an object gets caught between the step and the skirting panel, the resultant pressure on the skirting panel will actuate one of these contacts, thereby disabling and switching off the escalator
Handrail Entry Contacts
The handrail entry points are located for beneath the head of the balustrade. The handrail entry contacts are so positioned that if there is any danger of an object becoming wedged in the handrail entry points, a contact will actuate and switch off the escalator
Step Chain Contacts
Located in the lower step-reversing compartment, these contacts monitors the step chains for elongation, breakage or shortening of one or both step chains. When actuated, they will disable and switch off the escalator.
Maintenance Locking Device
The normal key start function will be invalid while maintenance Lock device is in use. The inspection socket in up and down machine room cannot be used at the same time.
Alarm Buzzer
The buzzer is located in up/down machine room, which can call passenger's attention when starting the escalator
Speed Monitor with Anti-reverse Function
Fixed at the bottom of the brake, it monitors the speed of flywheel as well as avoids reversing, Will stop escalator in case rated speed is over 120% or under 80%
Step Anti-static Brush
Located in the truss, under th step near the linear end. Eliminates step static
Step Missing Device
Two sensors are fixed, at upper/lower return sections, to receive pulse signals from steps passig by. If a step is missing, the escalator is stopped before missing step enters combo plate
Step Sag Contacts
fIxed at the start sections of both inclined upper and lower transition curves, it will be actuated to stop escalator in case step(including step roller) sags more than 3mm
Phase Monitor
This is a safety feature which monitors the main power supply and disables the escalator in the event of phase failure or phase reversal
Motor Overload and Overheat Relay
This relay monitors the motor's working condition. In case of motor overload of overheating, the escalator should be stopped
Comb Contacts
If a foreign object is caught between the comb plates and the steps, the resulting pressing action will move one of the comb plates backwards and actuate a safety contact, thereby switching off the escalator
Step Gap Illumination
Special green laps in the form of fluorescent tubes, ounted on both the top and bottom of the escalator, make the individual steps clearly discernible. Especially at the horizontal runs. Therefore boarding the escalator is made much easier for the young, elderly and inexperienced users
Handrail Anti-static Roller
Located under both ends of the handrail in the truss
Emergency Stop Buttons
Built into the balustrade skirting at the upper and lower ends of the escalator, the emergency stop button may be used to switch off the escalator manually
Step Reversing Fences
The fence is fixed at the end of step reversing point in the machine room for safety
Service Brake Release Contact
This contact is fixed at both brake arms to monitor whether the brake is open or not. If the brake operates abnormally, the escalator will not start and alarm will sound
Notable Installations
Glide
M2K Mall – Multiplex, Delhi
D Mall – Pitam Pura and Rohini
Omexe – Wedding Mall, NRI City Centre & Park plaza
Crown interiors – Faridabad
Star City Mall – Mayur Vihar, Delhi
Capital Mall, Bhiwadi, Rajasthan
Trillium Mall, Amritsar, Punjab (TATA Group)
TDI City Mall, Kundli, Haryana
Peninsula Mall, Bathinda, Punjab
Pantaloon – Bengaluru and Hyderabad
Chandana Brothers, Vizag & Hyderabad
Royal Meenakshi Mall, Bengaluru
R.K. Cineplex, Secunderabad
Gopalan Enterprise, Bengaluru
Nucleus Group (Abad Group), Cochin
Mattil Mall, malappuram, kerala
Centre Square Shopping Mall, Cochin
Centre Square Shopping Mall, Cochin
Tanishq (Tata Group), Chennai